Our annual look at who is making music happen in bham
Photography Liesa Cole
Produced by Stan Bedingfield
Shot on location at Studio Goodlight
Hair and make-up by Brittany McNaughton and Team Forecast
Photo styling: Drea  Zacharenko
Writer and curator: Lee Shook. 
Art direction: robin colter. 
Butlery: James Erik Young
RAQUEL LILY
As the home to UAB, one of the premier medical centers in the country, Birmingham has long been at the forefront of science and technology, but it's never had quite as soulful a representative of these twin engines of ingenuity until Raquel Lily came along. Trained as a neurobiologist, the Philippine-born chanteuse initially came to the Magic City in 2013 to join the medical community as a neurophysiology tech. Until, that is, she heard the siren's call of her other lifelong passion as a singer and musician.
Raised in a musical household in the Philippines (and later New York) by her mother and father, both of whom worked as entertainers and musicians in their home country as well as Japan, Lily had been singing and performing since the age of three, yet never quite found her groove and voice until settling in the Deep South. Having played in heavy metal bands as a teenager and later performing on college campuses around the country for several years as an indie folk singer, she tried her luck in Austin, but then Birmingham offered her a unique opportunity to pursue both sound and science in a way other cities had not.
Here, Lily stumbled upon a vibrant scene of like-minded musicians and rediscovered a love of the jazz and soul she had grown up listening to with her family. She began to pursue a career as a newly christened "indie R&B" singer, drawing upon Alabama's rich musical heritage as well as more modern horn-driven influences like Amy Winehouse, The Dip and hometown heroes St. Paul & The Broken Bones. But it wasn't just music she was delving into. As an avid video game and cosplay aficionado, she also began utilizing the video game streaming platform Twitch as a way to both engage her gaming community and broadcast her music via live performances that connected her with people all over the world. As a result, she was able to broaden her audience—while also playing live around town—and tap into an online resource that has now helped her travel the country and the globe through Internet fundraising based off her Twitch fanbase.
Tech-savvy, and with a powerful and sultry voice, Lily's unique synthesis of musical chops and computer-driven brand marketing has made her a singular figure and bright up-and-coming star on the Birmingham music scene, but the scene itself has helped her grow and develop as well.
"I've definitely gained a lot more soul since being here," she says. "It's insane the amount of talent that's in this town, but the thing is you feel belittled by bigger cities, like when you hear about New York and say 'I'm never gonna be as good as those New York jazz cats,' or something like that, you know? But you are, and the way you're overcompensating for it is the reason why you're so good. But you're never gonna see this unless you leave Birmingham."
Lucky for us, we can witness her rise from right here at home.
WILL STEWART
There may be no bigger breakout star this year on the Birmingham music scene than Will Stewart. Having quietly labored away for years as both a solo artist and member of bands like Timber and Nashville's Willie and the Giant, for a long time Stewart remained just under the radar of the general population here in town, only to find himself at the center of a recent wave of attention from both local and national media following the release of his excellent new solo album County Seat on local indie label Cornelius Chapel Records.
With articles and mentions everywhere from Rolling Stone to American Songwriter, and spins on both local radio and influential tastemakers like KEXP out of Seattle, the buzz around his earnest and heartfelt songwriting style has been growing swiftly.
Evocative and forthright, with a distinct emotional core that conjures a unique sense of place located deep within the heart of Alabama, Stewart's lyrical acumen has become a calling card for his newer material, and is reminiscent of The Jayhawks' Gary Louris or even Wilco's Jeff Tweedy, if he had been born in the Deep South. As he puts it, "With County Seat, I just wanted the songs to be as honest as possible. Nothing flashy, just bare-bones songwriting. I think sincerity can resonate in a deep way with people and I hope that's one of the reasons behind the increased interest in my music."
With Stewart's recent performances at both Sloss Fest and two well-attended sets at Secret Stages in August, it seems that the future for his Americana-influenced "ethereal folk rock," as he likes to call it, couldn't be brighter. Backed by a crack team of local musicians including Timber songwriting partner Janet Simpson-Templin on guitar and backing vocals, Robert Wason on bass, Tyler McGuire on drums, and sit-ins from scene veterans like Matt Devine on keyboards, Stewart has assembled an incredible touring band to hit the road with and perform on his second LP, which he plans on recording in December. With a full length debut coming from Timber as well this November, there's a lot to be thankful for as a member of the Magic City music community.
"I think the music scene here could go toe to toe with any other major city—it's extremely diverse and vibrant and is growing in a very exciting way," he says. "Also, we're lucky to have community minded venues and record stores to help cultivate effective outlets for emerging bands in town. Without that kind of support, the scene couldn't grow."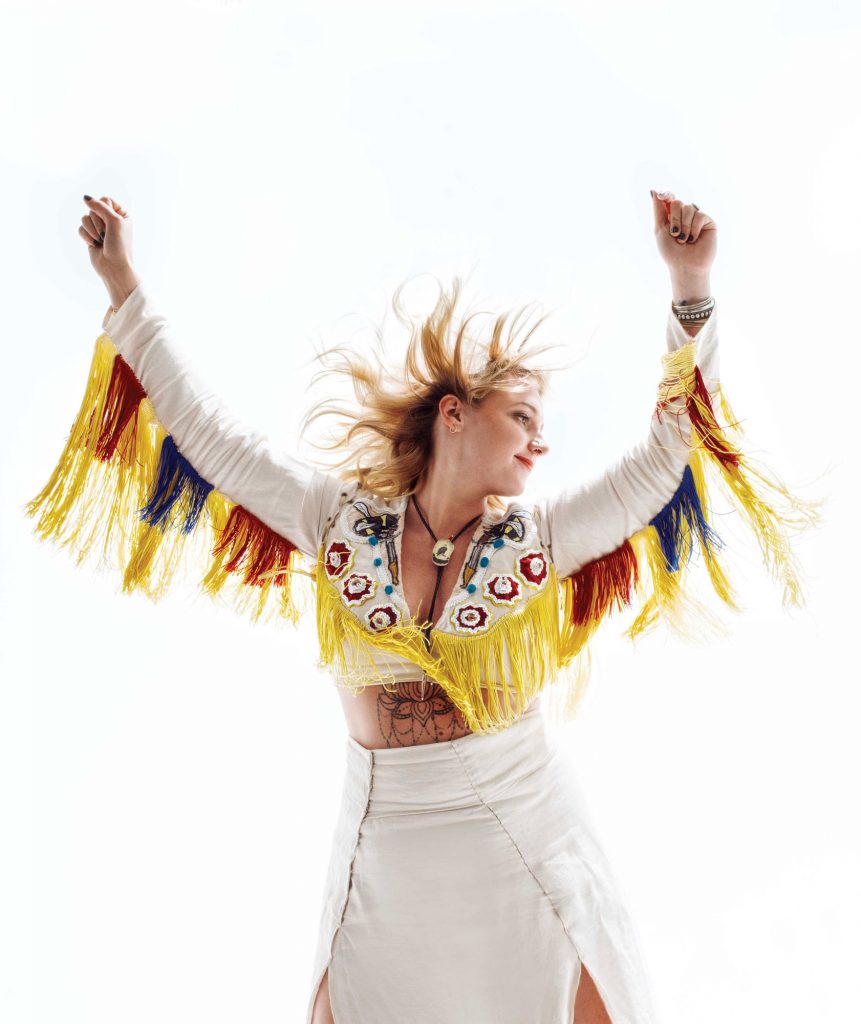 TAYLOR HUNNICUTT
Sloss Fest may have been a nightmare for some music fans and concertgoers this summer, but for Taylor Hunnicutt it was an opportunity to shine. As one of the few local acts on the Seasick Records Stage to not get shuffled around or rained out due to the inclement weather, Hunnicutt—backed by an all-star cast of some of the city's best young players, including members of Little Raine Band and Early James and the Latest—rose to the occasion to play for the disgruntled hometown crowd in what she calls a "performance I'll always remember" and "probably the best time I've ever had on stage." So much so, in fact, that Under The Radar magazine gave her a glowing review in their festival recap, stating, "From one Southern voice to another, as far as emerging artists go, none stood out more than local performer Taylor Hunnicutt, making her major festival debut," which was no small feat given that she was up against two of her own Southern music idols in the form of Margo Price and Jason Isbell at the two-day event.
But Hunnicutt is no stranger to big stages. In fact, as part of the rotating cast of performers for Black Jacket Symphony, where she regularly plays the role of Stevie Nicks for their Fleetwood Mac tributes, she's repeatedly held her own at larger venues, effortlessly slipping into character as another one of her favorite singers and influences, and a role that has helped her develop confidence as a singer and artist in her own right.
Combining great stage presence with a commanding and raspy vocal delivery, Taylor has slowly been making a name for herself around town with her signature bluesy style and country rock vibe, and has gained the notice of audiences everywhere from Iron City and The Nick to open mic nights at places like Little Italy's Pizza and Pints in Five Points, as well as on Birmingham Mountain Radio. Having just released her first solo EP, Flower in a  Drought, Hunnicutt, along with boyfriend/bandmate Daniel Raine and songwriting partner Ryan Sobb, is poised to take the Magic City—and surrounding areas—by storm in the coming years and is an artist to keep your eyes (and ears) on, which is something she takes great joy in.
"I'm so proud to be a part of what is going on in Birmingham right now," she says. "From the young upcoming musicians, to the older staples of the scene, everyone is hustling. We're all trying to make our home bigger on the map and it's beautiful."
erthling.
David Redwine, aka- erthling., has worn many hats over the years as a part of the burgeoning Birmingham and Tuscaloosa hip-hop scenes. Having worked as both a solo artist, and as a part of groups like Pen Pals and his newest project 729 wth collaborator/emcee OZU, Redwine has found himself at the forefront of a new cerebral rap movement here in town—alongside other great local acts like Shaheed & DJ Supreme, The Green Seed and Nerves Baddington—that's helping put Alabama bars and beats on both an upward trajectory and higher plane of consciousness.
Influenced by the Afrofuturism of Flying Lotus and Seattle's Shabazz Palaces, as well as the psychedelic electronic freak-folk of Animal Collective and experimental jazz, Redwine draws from a diverse collection of influences—or as he likes to say, "music that creates mysterious energy and sparks my mind"—that speaks to a decidedly modern, or even post-modern, era of new Magic City hip-hop artists.
Describing his sound as "magical realizm," a phrase that also happens to be the name of his most recent self-release, erthling.'s expressive lyricism and inventive production techniques combine what he likes to think of as, "Fantastic themes and magical happenings detailed in a poetic, but more normative kind of way. A study of self, and of the things around me. Done in a way that you can head nod to, or completely zone out with."
Funky, progressive, and thoughtful—with a knack for unique samples and arrangements—Redwine's effortless flow and scholarly slanguage have been gaining him increased notoriety among enlightened hip-hop heads as well as those looking for deeper meanings and messages beyond the garbled lyrical content offered by the current crop of controversial mumble rappers like Lil Peep, Tekashi 6ix9ine and the recently deceased XXXTentacion. More in line with creative minds like Kendrick Lamar, or even older acts like A Tribe Called Quest, his distinct style has proven to be a calling card more and more people are dialing into.
  Like many young aspiring rappers and musicians, he's been taking full advantage of online venues like Soundcloud to reach an audience beyond the confines of his home state, but he also sees the local community here as being the bedrock and inspiration for his visionary beatmaking. "BIRMINGHAM HIP-HOP IS AMAZING and I'm in awe of everything I see happening around me," he says. "We have a DEEP scene, with some of the most talented, hungry-to-create people I've ever met."
As a longtime fixture of the extended LOBOTOMIX hip-hop family, and having recently wowed fans with two amazing sets at this summer's Secret Stages festival, Birmingham seems poised to help elevate him to the next level of his career. And with a new solo album on the way this month, plus a series of four-song EPs coming down the pipe with OZU on Hive Muzik, he may very well take off into the stratosphere.
TRAGIC CITY
As one of our greatest musical exports through legendary figures like Erskine Hawkins and Sun Ra, and even more contemporary acts like Eric Essix, the roots of jazz run deep in the Magic City. So deep in fact that a new generation of young musicians has actively been taking up its mantle as not just a genre, but a source of civic pride in new and exciting ways. From ensembles like the Chad Fisher Group, led by the ace trombonist from St. Paul and the Broken Bones, to acts like the Clutch Band—both of whom present a wide range of jazz-inflected songs and sounds in their sets—it's always heartening to see a new crop of local artists taking ownership of such a integral part of our shared musical history.
And so it is with Tragic City, another young group who has been tearing it up around town with their modern take on jazz-funk fusion led by a stellar horn section and the ripping guitar pyrotechnics of Will Cash, who also lends his skills to popular cover bands like the Allmans-inspired Eat a Peach and Black Jacket Symphony. With several of the members having met in college in the UAB music program, the band originally started as a quartet back in 2014, until slowly morphing into their present incarnation as a seven piece with compositional duties led by keyboardist and arranger Martin Castor. As an all-instrumental group mining everything from hints of rock and hip-hop, to New Orleans-style dance grooves, the über-fusion of bands like Weather Report and Snarky Puppy, the septet has been making a name for themselves as some of the most accomplished young musicians on the local scene in recent years.
Having just released their self-titled debut this past June, there's still lots of room for growth and development for the fledgling group, but music fans have taken notice of their genre-bending exercises and lively stage show. "The response has been overwhelming," says trumpet player Tommy Bowen. "There were close to 300 people at Oasis, a little bar in Lakeview, for our album release. We really appreciate all the local support and kind words we've received from this recent album drop."
With as many chops as the band has, with any luck, they'll remain a major presence around both Birmingham and beyond and continue to push our jazz legacy forward into the future. But don't be surprised if you catch the various members out in other configurations around town as well. The members of Tragic City are some of the hardest-working professional players on the local club circuit, and iterations of their deep musical knowledge can be heard everywhere from The Marble Ring to WorkPlay and even bigger venues like Iron City. Definitely not a band to sleep on.
BLAKE EWING
As diverse as the current Magic City music scene is, few artists stand out as much— or have as interesting of a story— as composer Blake Ewing. Having grown up in the small town of Attalla, being a part of the professional realm he now inhabits once seemed like a far off and distant dream. A self-taught musician who initially learned how to play and arrange on the piano as a teenager by reading encyclopedias, Ewing's ascendancy in the world of visual media and film music is an unlikely and inspiring one, and an object lesson in self-determination and personal perseverance.
Having taken his late-blooming interest in the piano to UAB as an undergrad starting in the late-90s and early-2000s, it was there that he began to explore the rudiments of composition and pursue a love of neo/post-classical music.
"Studying at UAB solidified my interest in music and augmented my skill set and knowledge base of music history and theory," he says. "It also afforded me great experiences in performing live in some cool places like Canterbury Cathedral. I certainly don't believe an education in music is necessary to make great music in any genre, but it did help in many ways and is a source of knowledge I still dip into as needed."
Drawing inspiration from the work of classical composers like Claude Debussy, Maurice Ravel and Aaron Copland, as well as the film scores of people like John Williams, Danny Elfman and Bernard Herrmann, after leaving school Ewing launched himself into his career by utilizing the Internet and platforms like Soundcloud to reach an ever-widening audience and eventually found his work being utilized in commercials for Land Rover as well as by mainstream media outlets like CNN, Animal Planet, Netflix, and the National Geographic Channel. Having also developed an interest in ambient music and more modern fare like Brian Eno and Max Richter, his cinematic approach to sound began to really take form and launched what was once thought to be an unlikely career choice.
"Music is a connection to something greater than one's self and we have all been moved by it at one time or another in those primal places within us in ways we can't explain or even understand because of that," he says. "My goal as a composer and artist is always to try and tap into that somehow —to elicit something in ways that only music can—a memory; life, love and loss; time and space; what it feels like to be alive in this moment— and to hopefully help guide the listener to those intangible places and back in a meaningful way."
With a philosophical, spiritual and intellectual edge to his work that speaks to both an inquisitive mind and inquisitive soul, Ewing stands at a very interesting intersection of visual art and music. And although he's still not widely known here in Birmingham, given the wide array of platforms that have featured his lush soundscapes and pointillistic textures, he may very well be one of Birmingham's greatest hidden gems.
IRON GIANT PERCUSSION
Alabama and avant-garde are not words normally paired together, or even usually used in the same sentence, yet there's a rich lineage of "outsider" music running through Birmingham's veins that goes all the way back to the birth of Herman Poole Blount (aka "Le Sony'r Ra"), through the "instant compositions" of free improv legends Davey Williams and LaDonna Smith, and into today's underground experimental music scene happening in art galleries and DIY performance spaces across the city. It's an underappreciated part of our cultural heritage, yet thanks to people like Iron Giant Percussion, the tradition lives on in new and exciting ways. And although they may not be a household name, the chamber music group has quickly established themselves as the premier active avant-garde percussion ensemble in the state—outside of university groups—regularly tackling complicated and technically demanding pieces by the likes of John Cage, Steve Reich, and John Luther Adams.
As graduates of UAB's music department, where they first came together as a working unit, the quartet—consisting of the ASO's current Director of Artistic Administration Seth Noble, along with Sam Herman, Bret Huffman, and Justin Wallace—quickly began to build up their repertoire after leaving the halls of academia, exploring the more adventurous regions of modern composition and putting their own unique stamp on scores that would befuddle most pedestrian music lovers. Utilizing everything from traditional drum kits, to vibraphones, glockenspiels, shakers, sea shells, and any number of found objects that will make a unique noise, Iron Giant has set themselves apart from almost every other musical entity in the Magic City through their championing of bold sound exploration and unique concert experiences.
Having won the 2012 Clefworks Special Percussion Competition in Montgomery for their recording of David Skidmore's Ritual Music, as well as having performed everywhere from the Alys Stephens Center to the ASO's Sound Edge Festival and alongside internationally acclaimed acts like New York City's So Percussion, the group continues to push both the boundaries and expectations of Alabama audiences.
"We're a chamber music group and the music we play is what happens when classical composers just decide to start getting real weird with it," says Noble. "Anything that makes a sound when you hit it, kick it, scrape it, flick it, tickle it, etc. has a place in the percussion choir. Most people can pretty accurately imagine what a cast iron skillet might sound like if you hit it with a hammer, but what happens when you duct tape a saw blade to it first?
"Those are the important, pressing questions we try to answer with our music," he adds wryly. "It's also great for first dates."
NULL
Although the intersection of First Avenue North and 20th Street was once dubbed the "Heaviest Corner on Earth," a title long since eclipsed by bigger metropolitan areas like Atlanta and Nashville over the course of the 20th and 21st centuries, in 2018, Birmingham's Null may very well be putting the Magic City back on the map as the home to one of the Southeast's heaviest rock and roll acts.
A longtime staple of the underground DIY scene here in town, whose career actually stretches back nearly a decade, the band officially released its first proper album in 2016—the great Sleepwalking Days—and really came into their own as a force to be reckoned with among acolytes of thundering sonic brutality. Centered around the core duo of founding members and guitarists Carter Wilson and Kevin Wright, the band has maintained a rotating cast of players and collaborators over the years, before eventually settling on their current lineup featuring drummer David Hickox and synth player Brad Davis, themselves veterans of great local acts like Broken Letters and Plate Six.
"We have all grown up and mainly operated in the underground punk rock scene here in Birmingham," says Wilson. "That scene is based on community and relationships, and I'm very thankful that it is filled with people who show support to a very wide range of music and art. I couldn't imagine growing and evolving as a band without the support of our peers in that scene."
Influenced by everyone from Neurosis and Godflesh to acts like Depeche Mode and Joy Division, their plodding and repetitive aural assault— with a decidedly melodic approach—has become a favorite among the local rock cognoscenti and an apt reminder that iron is not the only heavy metal Birmingham should be known for. And although the band actively avoids classification with their unique brand of face-melting sturm und drang, fans of everyone from Black Sabbath to the darker side of PJ Harvey can find something to latch on to.
Poised to release their second LP this fall on Hex Records out of Portland, the band has also recently been touring with groups like Louisville's Young Widows, and is a must-catch live act that lives up to its daunting name.